My scrap space is finished! I've been having a lot of fun personalizing my scrap space over the past couple of days. The most exciting thing for me about finishing our basement was the prospect of having my own large space for crafting, since before I had a very small desk space and everything was just crammed together.
I chose this color scheme because #1, I just love this elegant black-and-cream paper from ScrapWorks and Scenic Route, and #2, I thought it would make a good, neutral backdrop for displaying my colorful cards and other stuff. Hope you like it as much as I do!
This magnet board came unfinished (made by Provo Craft). I painted it black, then heat embossed the white flourishes on and added words from Base Camp -- these are the the words I thought best embodied the reasons I love to craft. Oh, and the flourish stamps are from Close to My Heart -- one of my newest goodies!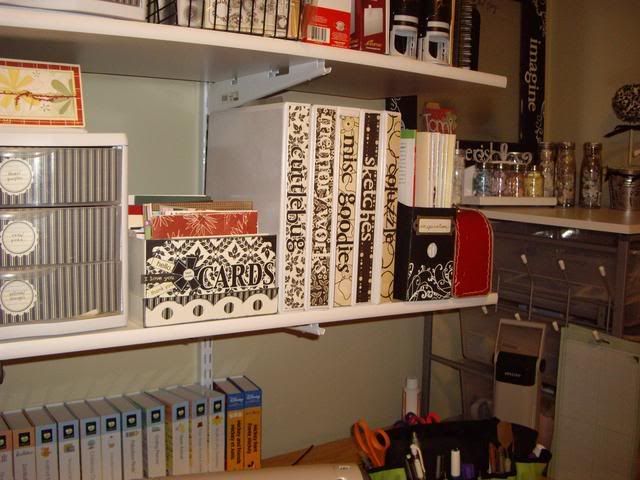 My Prima collection -- I really need to remember I have these! Plus a T for Tomi!
I bought this as a green floral foam topiary, then covered it with about 50 1" flowers, cut with George and attached with brads. I painted the green foam black so that any gaps weren't noticeable. The flourish stamps on the base and the tin are from Autumn Leaves, stamped with StazOn. I punched the holes and set the eyelets with my Cropodile -- what a great tool!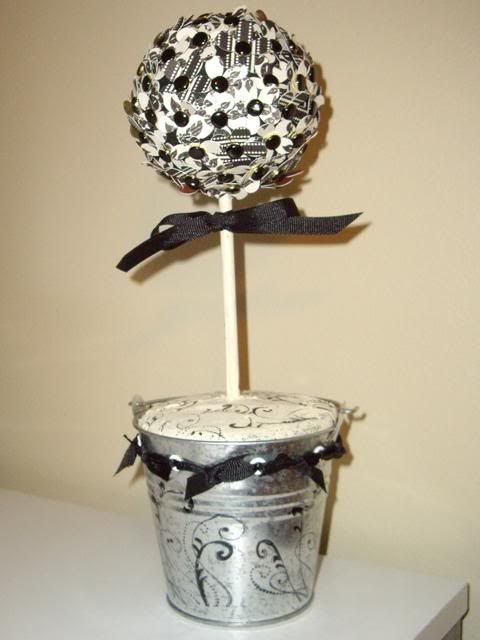 These drawers hold all my scraps, and they were always so unsightly. I made faces for them with this Scrapworks paper, and added scalloped circle labels cut from Mini-Monograms. I used a 7Gypsies journaling stamp in the center.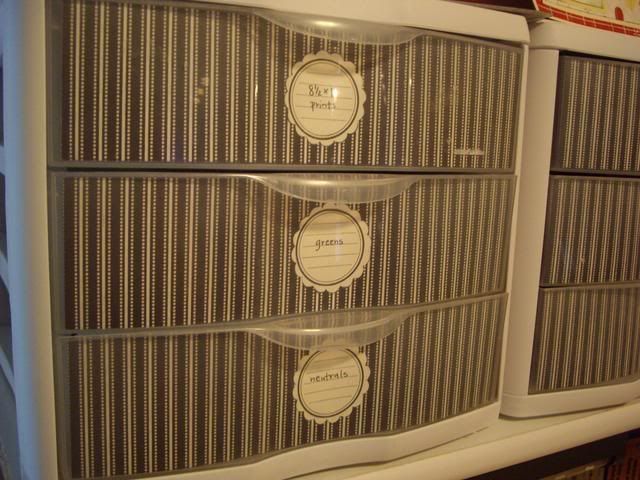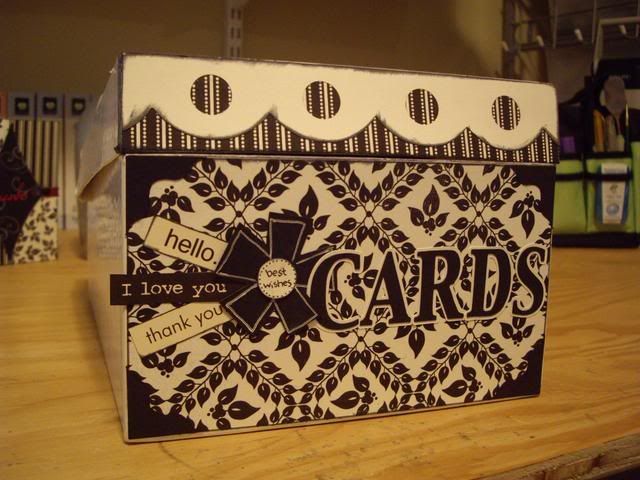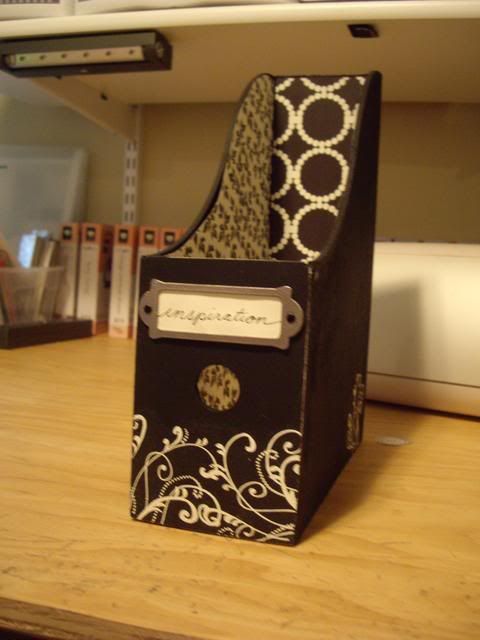 Card box: Home to my card stash! This is just a regular photo storage box, altered with Scrapworks paper. The flower is from WIMG, "CARDS" is from Base Camp, and the scallop on the lid is from Mickey & Friends. The little tags are from Scenic Route.
Magazine box: Purchased unfinished from IKEA, painted black and covered on the inside with Scrapworks paper. The flourishes on the front are more of the Autumn Leaves stamps, heat embossed in white. The bookplate was cut with Fab Finds, then heat embossed in silver.
Binders: The paper in the far-left binder is from Scrapworks, and all the rest is from Scenic Route. Titles are cut with Base Camp.
The tall drawer tower on the right is from IKEA -- these drawers are HUGE! I can't believe how much it holds. A few of them are still empty!
The white cubes beneath the desk are from Crop-in-Style, and I just love them. They hold so much. My new desk measures 5 1/2' wide by 3' deep, which makes a very nice work surface.