I have long been in love with these Magnolia stamps, but could never find them in the US until now. I've only got a couple so far, but you can bet I'll be adding to my collection. They remind me so much of my sister Carissa -- how could I resist? I'm new at this coloring technique (Prismas and Gamsol) but I can tell I'm going to have a lot of fun with it. I've always loved coloring!
This one is for my sister's birthday. I got the sketch from the
Magnolia Challenge Blog
. This is the one I colored most to look like Carissa. She loved wearing flowers in her hair, and I think it will mean a lot to my sister. The PP is from the My Mind's Eye Magnolia Collection (coincidentally!), the flowers are a sizzix die, and the sentiment stamp is from Stampin Up.
Today was my Grandma's birthday, and tomorrow she is having surgery, so I thought a whole basketful of good wishes might be in order! This pp is from Wild Asparagus, with Cuttlebug embossing. I've also used my favorite new tool, the edge distresser from Heidi Swapp, on the sentiment border. You'll see more of that in the next couple of cards!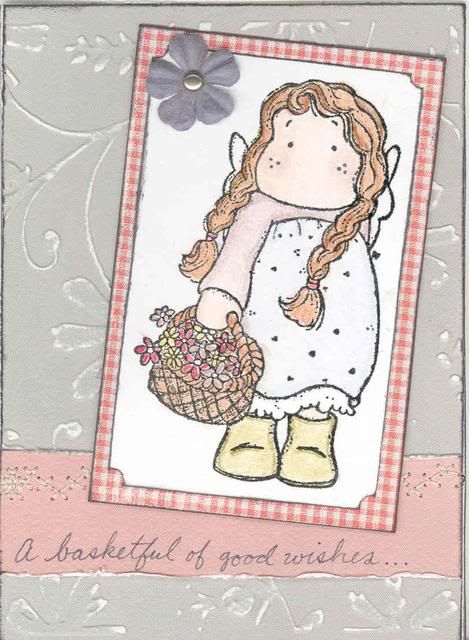 This one is for some dear friends in Denmark. "Med kærlig hilsen" basically means "hello with love." This one also uses Wild Asparagus paper. The scalloped oval tag is from the Cricut Alphalicious cartridge, cut at 5". I love how the edge distresser makes the edges of the paper curl up -- with this nice cardstock it looks like fabric!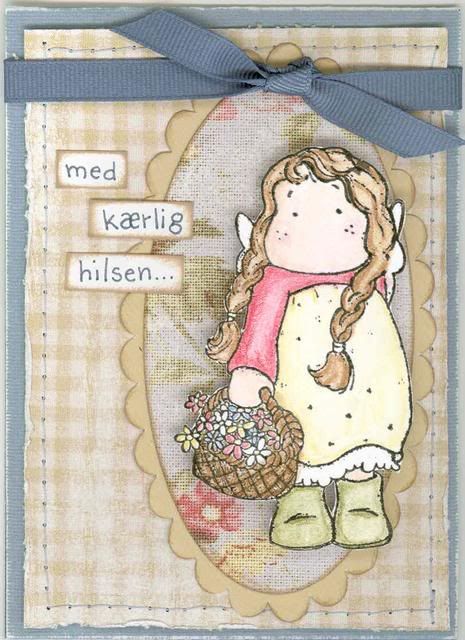 This last one is for friends of Valerie Hoyle on the Cricut Messageboard, who recently had a baby with some severe problems who won't be with them long (see her post and card request
here
). This one uses the same Wild Asparagus paper as my grandma's card (just the front instead of the back), and the scalloped edge was created with the Fiskars Threading Water punch. I was really digging the decorative stitching today, can you tell?!
Thanks for looking -- it's so fun to have a place to share my creations!