Boy, life has been crazy lately! If anyone out there is still checking my blog, thanks for hanging in! I have some fun projects planned for December, so I should be on a little more than I have been.
But now I'd love to show you my Disney albums! This first one is the autograph book/album that Sammy and I made together. We had so much fun! I made it 5 1/2" by 8 1/2" just because that was easiest, and it was a great size for having room to add the character die-cuts, room for autographs, and room for a 4x6 pic and journalling. The less work the better! I was able to finish this quickly after we got home, and Sammy has been proudly showing it off to everyone who comes in our door.


I made this little album as a Christmas gift for my SIL who instigated our trip to Disneyland. She's not a real "cutesy" person, and her tastes run to the funky, so I thought I'd do something grown up for her. This is a 4x6 chipboard album from We R Memory Keepers, so I just slid the photos into the pages on the inside. The outside I decorated using Scenic Route paper and chipboard "J", Autumn Leaves swirl stamps, American Crafts rub-on letters, and "Disney" cut from Mickey Font at 2 1/2". Oh, and the little Mickey head is cut at 1 1/4".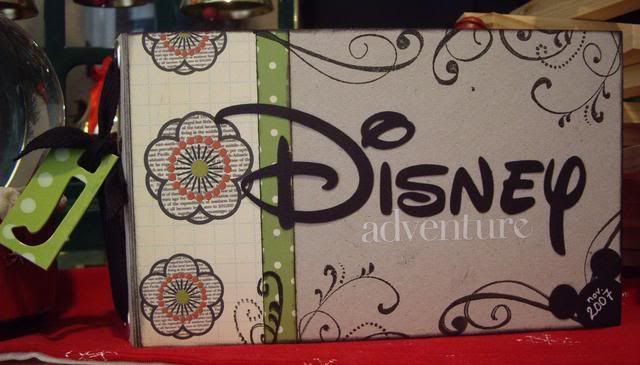 Hope everyone is having a really wonderful Christmas season!