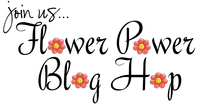 Welcome to another fun and inspiring Blog Hop with the
ScrapbookPal.com
Design Team! Our theme this time around is Flower Power, and we've teamed up to bring you a whole bouquet of beautiful ideas. If this is your first stop, make sure you head back to the
ScrapbookPal blog
so you can visit all the designers and find out how to win a Cricut cartridge of your choice!
ScrapbookPal.com
has a fantastic selection of tools for paper-crafters, and they are adding new things all the time. They have great customer service, and shipping is always free on orders over $25 -- raise your hand if you HATE paying for shipping like I do! Yay for free shipping!
Today I thought I'd show you a fun technique that creates a really show-stopping flower. The best part about it is that it uses a basic scalloped circle, which you can find on a whole bunch of different cartridges! I used
Mini-Monograms
, but you can use a scalloped circle or even a flower shape from anywhere.
This flower is made from tissue paper! It's a great project to do with a mat that is on it's last legs, because you want one that is as un-sticky as possible (so that you'll be able to get the tissue paper off again). Cut yourself a 12x12ish square of tissue paper and adhere it to your mat. Then cut as many scalloped circles as you can fit on the page (either using the "auto-fill" feature on your Expression or setting it up that way on your Gypsy).
Now, the tissue paper will not cut super cleanly. Don't stress out -- the flower shapes will punch out just fine once it's done cutting, and the feathery edges just add to the full-ness of the flower. Once you're done cutting, layer all the circles together, not quite on center. Punch a hole in the center and insert a brad.
Now comes the fun part! Use
Glimmer Mist
to add some extra color and glitz to your flower. Your first spray will only get the top layer and few edges, so let that dry for a minute and then scrunch the flower up a little bit. Spray just a little, until you get the desired effect. You'll get all sorts of different tints over the surface of the flower. Let it dry, then fluff it up til it looks fabulous. Now it's ready to be the star of your next card or scrapbook page!
Other elements: Label shape -- Storybook; "Miss You" -- Cindy Loo; Chalk Ink -- Cat's Eye chalk ink in Creamy Brown; Brad -- American Crafts, Lace -- Fancy Pants; Patterned Paper -- My Mind's Eye
Now, off to the rest of the Blog Hop with you!
ScrapbookPal Blog (
http://scrapbookpal.blogspot.com/
)
Amy Crockett (
http://www.scrappingmommy.com/
)
Tomi Ann Hill (
http://tomiannie.blogspot.com/
)
<-- You are here!
Cheryl Walker (
http://sweeetdesignsbycheryl.blogspot.com/
)
<-- This is your next stop!
Leah Cornelius(
http://paperblossoms.blogspot.com/
)
Jamie Cripps (
http://jamielanedesigns.blogspot.com/
)
Crystal Butler (
http://crystalscraftycreations.blogspot.com/
)
Tammy White (
http://theeventqueen.blogspot.com/
)
ScrapbookPal Blog (
http://www.scrapbookpal.blogspot.com/
)
Happy hopping!