It's been far too long since I posted a new card -- I've been busy, busy this month! I turned the big 3-0 and had lots of fun with my family and friends celebrating the big event. This past week, I've finally been able to make some cards. Hooray! (Mom, if you're reading this, don't go any further, because one of these is for you...) This one is my favorite -- it's an engagement card for my little brother and his new fiance. The pp is from Sassafrass Lass and the stamps are from the Stampin Up Love Matters set. I colored the letters with PrismaColor pencils and blended with Gamsol. The artisan label is my own design, cut with SCAL and my Cricut (the cut file is available in my etsy shop!).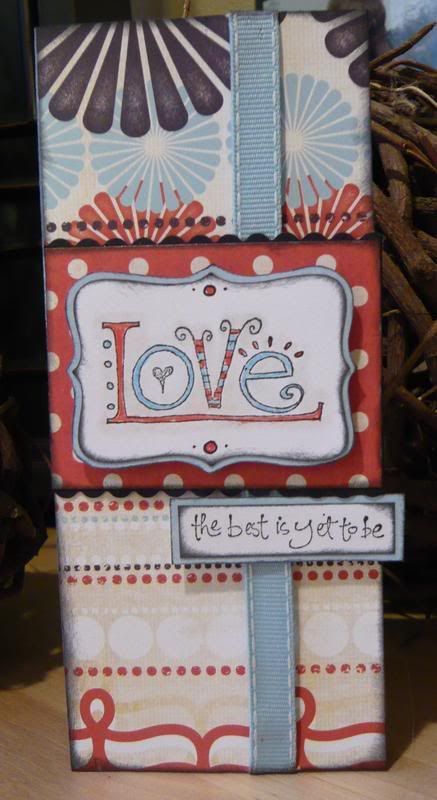 The following two cards I created for the
2 Sketches 4 You
Spring Design Team call. I wasn't going to enter, but I liked the sketches so much I decided to just go for it. I think I emailed in my entry about 5 minutes before the deadline Saturday night! I just got these Stampin Up sets from my friend Tammy for a really awesome deal (thanks again, Tammy!) and I'm having so much fun playing with them. This first one uses the Love Matters set and that same artisan label again, as well as a 5 1/2" scalloped square from the Cricut Mini-Monograms cartridge:
This one uses the "Pick a Petal" set and a JoAnn's metal rim velum tag. I created the scalloped border for the tag using my Cricut and Design Studio. The little tab at the top is from the Cricut Fabulous Finds cartridge, cut at 1". "hi" is from the Cuttlebug "Typewriter" alpha.
These last two are quick cards that I made several of each as thank you's for Christmas and birthday presents. The one on the left uses Stampin Up cardstock (last year's In Color combo) and a cool set of acrylic stamps my mom gave me for my birthday. Their from Inkadinkadoo and came in a huge set of 130 stamps! I'm pretty sure she got them at Costco. I cut the circle and scalloped circle with the Mini-Monos cartridge, and made the scalloped border with my Fiskars Threading Water punch. The little flower is an EK Success punch.
The card on the right uses Chatterbox paper that I've had in my stash for years and a Stampin Up block party stamp, along with another EK Success flower punch for a quick embellishment.
I've started listing some of my cut files in
my etsy shop
! If you have SCAL for your Cricut, be sure to check them out. I think they'll also work for the Pazzles and Wishblade, but I need to learn more about that. I'll be making a big announcement and offering some fun blog candy once I get more files ready to go, so stay tuned!